Recently published:
Considering Compassion. Global Ethics, Human Dignity, and the Compassionate God. EDITED BY Frits de Lange, L. Juliana Claassens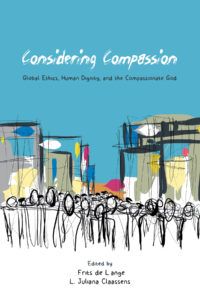 The question at the heart of this book is whether the Christian legacy provides us with sources of moral imagination needed to guide us into the global era. Can the Christian practice of faith contribute to a more compassionate world? In Considering Compassion, colleagues from different theological disciplines at Stellenbosch, South Africa, and Groningen, Netherlands, take up these challenging questions from a variety of interdisciplinary angles.
Interested? Click here.
Loving Later Life. An Ethics of Aging (Eerdmans, Grand Rapids MI 2015)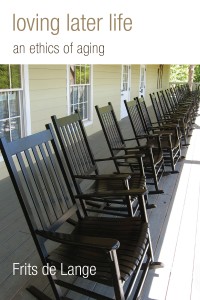 In our youth-obsessed culture, nobody enjoys growing old. We normally fear our own aging and generally do not love old people — they remind us that death is inescapable, the body frail, and social status transitory.
In Loving Later Life Frits de Lange shows how an ethics of love can acknowledge and overcome this fear of aging and change our attitude toward the elderly.
De Lange reframes the biblical love command this way: "We must care for the aging other as we care for our own aging selves." We can encourage positive self-love by embracing life as we age, taking good care of our own aging bodies, staying good friends with ourselves, and valuing the last season of life. When we cultivate this kind of self-love, we are released from our aversion to growing old and set free to care about others who are aging — our parents, our relatives, and others in their final season of life.
$ 19.00 ISBN: 978-0-8028-7216-
To order at Eerdmans, Grand Rapids MI 
-0-
Frederik (Frits) de Lange (1955) is Professor of Ethics at the Protestant Theological University. He studied theology at the Theological University Kampen, were he attained his Ph. D. in 1985 with a dissertation on Dietrch Bonhoeffer. From 1985 – 1990, he ministered the Dutch Reformed Church in Paris (France). He still is an ordained pastor in the Protestant Church in the Netherlands (PKN). During the years 1990 – 1997 he was lecturer in Ethics at Groningen University.
Since 1997 he teaches at the Theological University Kampen, currently The Protestant Theological University,Groningen. From December 6, 2001 – September 5, 2005 he was Rector of the University. He wrote books on Dietrich Bonhoeffer, Simone Weil, hermeneutics, individualism, an introduction in social ethics (as a co-author), a study on evolution theory and theological ethics (1997). One of his books on Bonhoeffer is Waiting for the Word. Dietrich Bonhoeffer on Speaking about God (Eerdmans, Grand Rapids 2000). In his current research he concentrates on questions related to modern life course, gerontology and the ethics of care. He wrote three books on the subject: De mythe van het voltooide leven (The Myth of a Completed Life) 2007, De armoede van het zwitserlevengevoel (The Shabbiness of Third Age Hedonism), 2008 and Waardigheid – voor wie oud wil worden (Dignity – for who wants to grow old), 2010. Recently he published a book on the ethics of care: In andermans handen. Over flow en grenzen in de zorg [In someone else's hands. On flow and limits in care]. (2011).
He is a member of the Society of Christian Ethics, the (European) Societas Ethica and the American Academy of Religion (AAR). He presided the Dutch section of the International Bonhoeffer Society from 1994 until 2003. From 2001 until 2009 he was member of the Advisory Board of the Dutch Church in London, Austin Frairs. He has been co-editor of Geron, a Dutch journal for professionals working with elderly, from 2007 – 2012. From 2009 until 2014 he was member of the the Supervisory Board of Alfa-College, a Christian School for Professional Education with 11.000 students in the northern part of the Netherlands.
Since 2009 he is Extraordinary Professor in Systematic Theology and Ecclesiology at the Theological Faculty of Stellenbosch University, South-Africa. Spring 2012, he spend at Princeton, US, as a Member in Residence of the Center of Theological Inquiry.
His passion, among others: playing guitar and singing in the band MEEZZ.
-0-
Some English articles online. (For more, see "Online Publicaties," or Follow me on Academia.edu )
Suffering from or in Old Age? The Existential Gravity of Ageing. Journal of Population Ageing (June 2021). (https://doi.org/10.1007/s12062-021-09334-6)
Which lives should we save in corona times, EthicsofCare.org (25 Mei 2020).
Considering Compassion: Global Ethics, Human Dignity, and the Compassionate God, Frits de Lange & L. Juliana Claassens (eds.), Pickwick Publications (Wipf & Stock), Eugene OR 2018.
Introduction. Considering Compassion: Global Ethics, Human Dignity, and the Compassionate God, (with L. Juliana M. Claassens), in: Considering Compassion: Global Ethics, Human Dignity, and the Compassionate God, Frits de Lange & L. Juliana Claassens (eds.), Pickwick Publications (Wipf & Stock), Eugene OR 2018, xiii – xxvii.
The Event of Compassion, in:  Considering Compassion: Global Ethics, Human Dignity, and the Compassionate God, Frits de Lange & L. Juliana Claassens (eds.), Pickwick Publications (Wipf & Stock), Eugene OR 2018,  17 – 30.
Is home the best place to be old? The changing geography of responsibilities in the care for elderly, in: Stellenbosch ­ Theological Journal 2018, Vol 4, No 1, 133–151 (DOI: http://dx.doi.org/10.17570/stj.2018.v4n1.a07)
'The Self in Exile: Emmanuel Housset's Concept of Personhood', in: Steven C. van den Heuvel, Patrick Nullens, and Angela Roothaan, Theological Ethics and Moral Value Phenomena. The Experiences of Value, Routledge: Abingdom/ New York 2018, 95 – 111.
Peter Rollins' Religionless Christianity: The Radical Bonhoeffer for a New Generation (paper presented at the XII International Bonhoeffer Congress, Basel 2016 [accepted for publication in the congress proceedings]
Restoring autonomy. Symmetry and asymmetry in care relationships, in: Nederduitse Gereformeerde Teologiese Tydskrif / Dutch reformed theological Journal, Vol 52 (2011), Supplement 1, 61 – 68.
"Honour thy father and thy mother" – What do grown children owe their aged parents? In: Hansen, L., Koopman, N. and Vosloo, R., Living Theology. Essays presented to Dirk J. Smit on his sixtieth birthday. Wellington (South Africa): Bible Media, 481-495. (ISBN: 978-0-86487-551-8).
Speaking Differently about God. Bonhoeffer and the Future of Christianity in Post-secular Europe. In: Florian Schmitz / Christiane Tietz (Hg.), Dietrich Bonhoeffer's Christentum. Festschrift für Christian Gremmels. Gütersloher Verlagshaus, Gütwersloh 2011,  48 – 61.
Prophets of the Round Table: The Protestant Church in the Netherlands and the Public Domain. A reworked version of this draft paper has been published in: International Journal of Public Theology 5 (2011) 393–409
I am all I have (On depression, in:Trouw, Letter & Geest March 18, 2009)
Becoming One Self: A Critical Retrieval of 'Choice Biography', in: Journal of Reformed Theology 1 (2007) 272-293
Against Escapism: Dietrich Bonhoeffer's Contribution to Public Theology, in: Len Hansen (ed.), Christian in Public. Aims, methodologies and issues in public theology,  Stellenbosch 2007, 141 – 152.
Good ageing. Unpublished, 2006
Good ageing (short version), Ageing Spirited Scotland 2006
Reshaping Protestantism, Jubilee congress ThUK 1-4 september 2004
About Being a Confessing Church vis-à-vis HIV/ AIDS, Embodying Barmen and Belhar, conference Beyers Naudé Centre Stellenbosch (SA), october 18 – 20, 2004, NGTT 47, 1 & 2, 2006, 254- 267.
Modern Life course as a choice biography, in: Weal and Woe. Practical-Theological Explorations of Salvation and Evil in Biography, R.Ruard Ganzevoort & Heye K.Heyen (eds.)
Life as a Pilgrimage. Passion of Protestants, 2004
The Modern Life Course and the Ethics of the Art of Living. Guest lecture University of Western Cape, South-Africa, July 27, 2004
Bible and Ethics. Use and Misuse of Biblical Texts in Moral Matters, The International Bible Commentary 2003
The Work of Mercy. unpublished 2003 (presented at the occasion of John de Gruchy's 70th birthday in Cape Town).
Saint Bonhoeffer? Dietrich Bonhoeffer and the Paradox of Sainthood, Zeitschrift für dialektische Theologie, 37 (2002/3), 245 – 269.
On Classics and Saints. The Relevance of Dietrich Bonhoeffer. Augsburgs College, Minneapolis, January 9th, 2001
Kenotic ethics. Gianni Vattimo Reading the Signs of the Time. In: Onno Zijlstra (ed.), Letting Go. Rethinking Kenosis, Bern 2002, 25 – 68.
Wie ein Tanz. Natur und Schöpfung bei Simone Weil. Vortrag Theologische Fakultät Rijksuniversiteit Groningen, 1996, in: Wijsgerig Perspectief, 34 (1993/94), 2, 47 – 53. (published in Dutch).
'The Spiritual Force is Lacking'.Bonhoeffer on Secularization, Technology, and Religion. In: C. Gremmels / W. Huber, Relligion im Erbe. Dietrich Bonhoeffer und die Zukunftfähigkeit des Christentums, Gütersloh, 2002, 112 – 124. Proceedings VIIIth International Bonhoeffer Conference, Berlin, August 2000.
' With each other, for each other, against each other'. Bonhoeffer's Theory of Mandates as a Theological Contribution to Social Pluralism. Bonhoeffer Group, American Academy of Religion, San Francisco November 1997. In: Bonhoeffer Rundbrief. Mitteilungen der internationalen Bonhoeffer-Gesellschaft Sektion Bundesrepublik Deutschland, Nummer 54, November 1997, 13 – 32. (German)
Waiting for the Word. Bonhoeffer's `Thoughts on the Day of the Baptism of Dietrich Wilhelm Rüdiger Bethge' and the Churches' Embarrassment in Speaking about God. VIIth International Bonhoeffer Conference, Cape Town january 1997. In: John W. de Gruchy (ed.), Bonhoeffer for a New Day. Theology in a Time of Transition, Grand Rapids 1997, 94 – 111.
Room for forgiveness? A theological perspective. In: Didier Pollefeyt (Ed.), Incredible Forgiveness. Christian Ethics between Fanaticism and Reconciliation, Peeters Leuven/Dudley, Ma 2004, 161 – 183.